Don't Export to China Before You Know the Risks!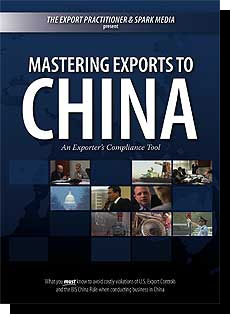 If you are:
Exporting to China
Transferring Technology to Chinese Nationals
Doing R&D in China
Outsourcing Production in China
You Risk Costly Penalties for
Violating U.S. Export Controls

China may be your fastest growing market and production location, but Beijing's drive to expand its armed forces could threaten America's national security and technology leadership.

To prevent the diversion of defense-sensitive goods and technology to China, Washington has imposed strict new export controls, including the BIS China Rule. Your failure to comply with these regulations may lead to violations that could cost your firm millions of dollars in criminal fines and sanctions.
Mastering Exports to China is a professional training video that has been written and produced by experts in U.S. export control regulations. Its goal is to help you introduce and explain these tough new export control rules to all your employees and to prevent even inadvertent violations.
In plain, direct language and live dramatizations,
Mastering Exports to China will give your employees:
A clear overview of U.S. controls on exports and technology transfer to China;
What they need to know before doing business in China; and
Key steps they must take to avoid costly violations.
Each copy of Mastering Exports to China also comes with a supplemental training handbook that will help you conduct additional training on exporting to China and complying with the BIS China Rule. This material includes useful articles analyzing the new rules and how they will affect your business, examples of enforcement cases involving China, and reports revealing the risks you face.
Watch a preview of this high quality, professionally produced export training video by simply clicking Watch Preview below or order your copy today by clicking Buy Now.
Mastering Exports to China comes with this money-back, no-risk guarantee: If you are not completely satisfied after you receive and view it, send it back within 30 days and get a full, 100% refund.